GarMATERIALS: Made of High-quality Resin. A durable and lightweight planter is designed for long-term use.
HOME OFFICE DECORATION: Grow mini cute plants in the head planter, such as herbs, succulents or cacti.
DRAINAGE HOLE: Cute face planter has a drainage hole to drain excess water, protect plant root healthy growth. Come with a removable stopper for indoor use.
SPECIAL PLANTER GIFT: A ideal present is prepared for your friends and family for Housewarming, Birthday, or other holidays.
DIMENSIONS for cute face: The Planter's cavity is approximately 4.92" wide x 4.92" deep. Whole pot size: 8.67" height x 6.3" width x 7.48"length.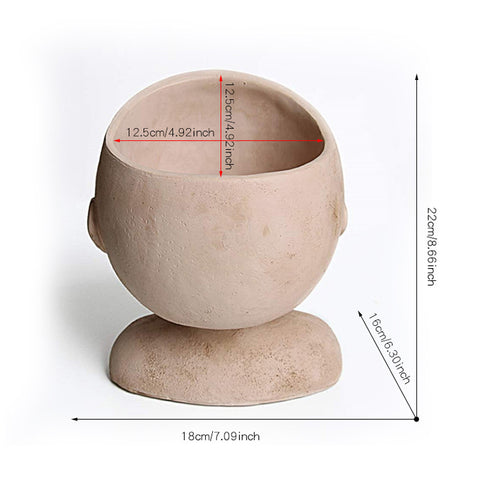 DIMENSIONS for cut face2: The opening Diameter is 2.7 inches, the Bottom length is 4.7. Height is 6.7 inches. (Plants are not included.).